The Institute for Field Education (IFE) is a European nonprofit education institute & runs semester-long study/intern abroad programs for advanced French language learners. IFE programs turn the European professional workplace into an effective learning space, a broad interface with another culture whereby students become fluent in French, deeply familiar with contemporary European societies, and more knowledgeable in their chosen field of study or work. IFE Strasbourg students have the opportunity to study and intern at the intersection of the EU's two most powerful member-states: France & Germany. Yet, much of the attraction of Strasbourg - the only city in Europe besides Geneva to host international organizations while not a national capital - stems from it's being a lively and highly representative canvas of contemporary France. It's also a great place to live: green, crisscrossed with waterways and bike paths, a leader for urban innovation, a center for the arts.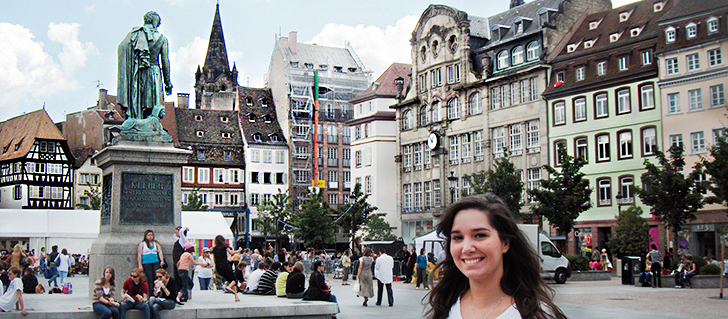 Area(s) of Study
Architecture
Finance
Journalism
Public Relations
Art History
French
Law
Radio-Television-Film
Biology
French Civilization
Legal Environment Of Business
Religious Studies
Chemistry
Geography
Liberal Arts
Science
Communication
Government
Marketing
Social Science
Communication Studies
Health And Society
Mathematics
Social Work
Comparative Literature
History
Natural Sciences
Statistics
Economics
Human Ecology
Philosophy
Theatre And Dance
English
Humanities
Physics
Urban Studies
Environmental Science
International Business
Psychology
Women's And Gender Studies
European Studies
International Relations And Gl
Public Affairs
---
Sponsored by IFE - a UT Affiliate
Academic Information
All courses and coursework are completed in French. The program is open to a broad range of academic majors. Program has three components: (1) 5 weeks of classroom teaching on European society and work environment, (2) 12-week full-time internship & field research in your academic area, and (3) a culminating research paper.
Faculty
Students can expect small lectures and group workshops for discussion, debate, press review, oral presentation, and site visits during the 5-week preparatory session. At the beginning of the internship period, each student is assigned a qualified research advisor with whom the student meets biweekly to choose and develop a research topic.
Language(s) of Instruction
French
Eligibility
Minimum 3.0 GPA
Completed FR 322E or equivalent French language proficiency
Personal motivation to thrive in a cross-cultural context
Advanced progress in major recommended
Service Learning/Internship
Service Learning - No
Internship - Yes
Housing
There is no housing plan integral to the IFE program. However, IFE will help students 1)arrange a homestay, 2)reserve a place in an independent student residence or foyer, or 3)rent a private studio or apartment by providing resources for the search and possibly contacting landlords on students' behalf.
Open To
Students from all colleges and schools
Program Cost
Fall students must apply through UT portal by 03/15 and directly to IFE by 04/01. Budgets below are samples, but include everything a student will need except money for extensive personal travel. The IFE program fee may vary depending on the Dollar/Euro conversation rate.
Dates:
- Spring
Program: January 20, 2023 to May 26, 2023
Instructional: January 20, 2023 to May 26, 2023
Priority Deadline: September 30, 2022
Final Deadline: October 10, 2022
- Fall
Program: August 18, 2023 to December 20, 2023
Instructional: August 18, 2023 to December 20, 2023
Final Deadline: March 15, 2023
Application Code
290093
Program Coordinator
Ellen Birch
Additional Resources
Program Website
Frequently Asked Questions
Scholarships
Next Step
1) View mandatory advising videos Explore: Education Abroad 101 and Explore: France & Belgium. Attend a live Q&A if you have questions. 2) View Ready to Apply video. 3) Self-authorize your application via the Get Started link below and apply! Videos and Q&A events found here: https://global.utexas.edu/abroad/apply/advising.